Posted by Brandy on 2/10/2011 to
General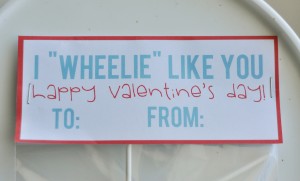 For this simple project all you need is:
my printable
cardstock
a mini car, bicycle, motorcycle, skateboard (anything with wheels)
candy or filler if you want
treat bag
stapler
Print the I Wheelie Like You printable. Fold it in half.
Put the treat in the bag. Slide the topper over the bag. Staple the sides.
To print your own, save your "I Wheelie Like You" file:
LOVE THESE! Printed mine this morning for my Sweet Little Sienna to take to her classmates! Thanks for sharing!